Since 1954 Hotel de Paris Museum™ has undergone millions of dollars of preservation and restoration.  It is a treasured landmark and appears much as it did during the 1890s.  Modern-day visitors are immersed in a setting of authenticity, which provides a fascinating window into the lives of the hotel's proprietors, workers, and builders.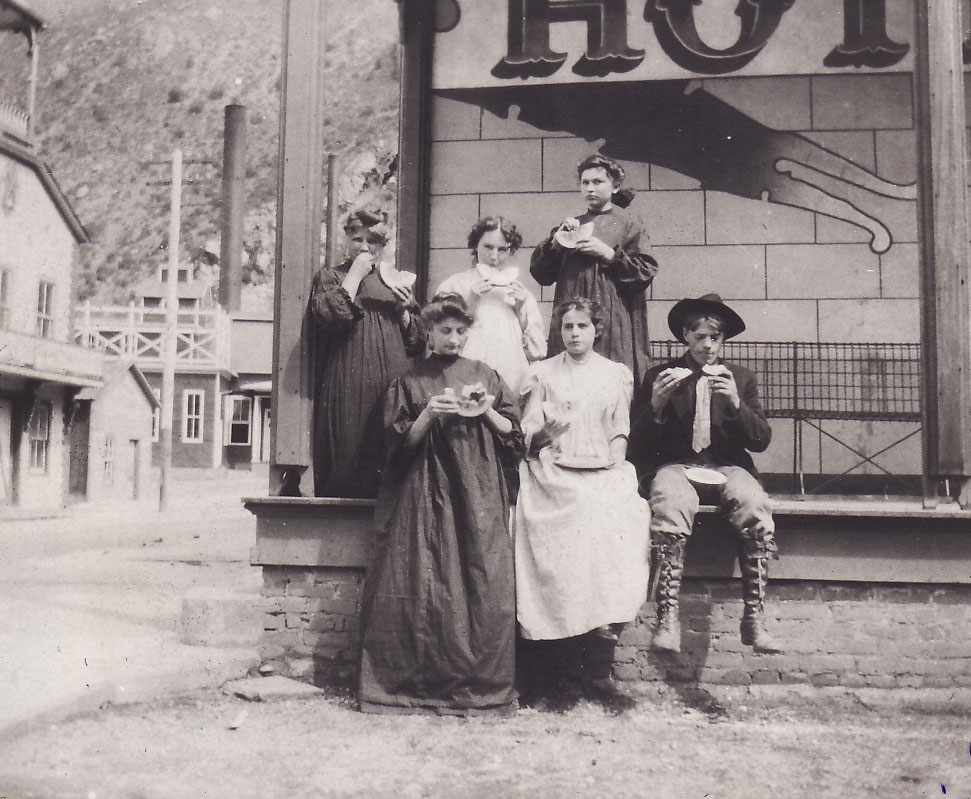 Marie "Sophie" Bladier born in Laval-Pradel, France.

Adolphe Francois Gerard born in Alençon, France.

1845 Pierre August Gerard, father to Adolphe, dies.

Marie-Claire Jacquine Aubey Gerard, mother to Adolphe, marries August-Emilien Deslanders in France.

Sophie Bladier marries Jean-Antoine Gally in France.

James Harvey Burkholder is born in Fort Wayne, Indiana.

Marie-Claire and August-Emilien enroll Adolphe in the Catholic seminary at Sées, France. Adolphe leaves the seminary amid a scandal and moves to Paris, France where he washes dishes and apprentices as a cook. Adolphe moves to London, England and works as a translator and reporter, then immigrates to New York, New York and works as a translator and reporter.

In New York, an editor accuses Adolphe of plagiarism; he enlists in the United States Army at Fort Hamilton, New York and is subsequently stationed at Fort Riley, Kansas and Fort Russell, Wyoming, where he deserts the army, begins calling himself Louis Dupuy, and makes his way to Denver, Colorado where he works as a warehouse laborer and later a courier for the Rocky Mountain News. The newly minted Louis Dupuy supports himself as a camp cook and itinerant reporter writing about silver from the mining camps of Breckenridge, Dillon, Silver Plume, and Georgetown, Colorado.

Louis quits the Rocky Mountain News over anti-immigration articles run by editor William Byers, then labors as a hard rock miner until he is mangled in a mining accident in which he saves lives. After recuperating under the care of the Sisters of Saint Joseph, Louis washes dishes in the Powers Building and uses reward money to reinvent Delmonico Bakery as Hotel de Paris. Louis hires shirttail relative "Auntie" Sophie Gally as housekeeper and her husband Jean-Antoine Gally as handyman and relocates them from Nimes, France to Georgetown, Colorado.

Louis purchases the Powers Building. Jean-Antoine and local craftsmen renovate and expand the restaurant dining room and construct a new commercial kitchen. Jean-Antoine dies in a mining accident; afterward, Louis moves Sophie into Room 3 of Hotel de Paris and redecorates Sophie's private room along with the hotel's guest rooms, and installs striped wood flooring in the restaurant dining room which reopened on Christmas Eve.

Sarah Harrison departs Nova Scotia, Canada for Georgetown, Colorado and works as a waitress at the Ennis House. Louis purchases property adjacent to Hotel de Paris and expands his business, including the establishment of a laundry. Chinese laborers complete a two-story addition and cellar expansion. John Touk works as a gardener at Hotel de Paris and lives in Room 1 of the Annex. Louis adds a sandstone sidewalk in front of Hotel de Paris, purchases Troublesome Creek, a cattle ranch near Hot Sulphur Springs, Colorado and puts stone steps at the hotel's front entrances. Louis acquires property adjacent to Hotel de Paris and Chinese laborers construct a second two-story addition, expand the cellar, and attach a galvanized iron cornice to the front façade. Louis Dupuy becomes an American citizen. Ned and Hazel Burkholder born in Georgetown, Colorado.

Louis stuccos and scores Hotel de Paris to resemble blocks of stone and builds an addition on the Annex; Chinese laborers construct stone walls to create enclosed outdoor courtyards. A fire at the McLellan Opera House threatens Hotel de Paris, which survives due to its masonry exterior. Louis commissions a mural consisting of crossed flags of France and the United States of America with a banner identifying the building as "Hotel de Paris," electrifies the hotel, adds a truss roof over gabled roofs covering the hotel, and emplaces the statue "Justice Unblinded."
Dr. James Russell of Columbia University names Louis the "Father of Domestic Science in America."
Louis travels to France for four months.
Louis dies in Room 13 of Hotel de Paris; Sophie inherits his estate. Sophie dies in Room 3 of Hotel de Paris; overseas heirs inherit her estate. Sarah Burkholder rents Hotel de Paris moves in with her children Ned and Hazel, and later purchases Hotel de Paris from Sophie's heirs.
Sarah adds verandas to the West façade of the hotel, upgrades plumbing from lead to cast iron, replaces Louis' brick range with a gas range, removes old toilet rooms, and installs new toilet rooms.
James Harvey Burkholder dies in Georgetown, Colorado.
Sarah purchases properties adjacent to Hotel de Paris, upgrades plumbing, hosts long-term boarders, offers an eclectic menu, and caters to vehicle tourists.
Hazel Burkholder, daughter of Sarah and James, marries Ralph McAdams of Salina, Kansas. Ralph dies in Boulder, Colorado and Hazel returns to Georgetown, Colorado.
Sarah begins removing fire damaged structures in Block 20 and hires a chain gang to clear and level a lot next to Hotel de Paris. Repairs take place on the exterior stucco (including repainting the crossed flag mural) and the restaurant dining room ceiling.
Sarah transfers ownership of the hotel to Hazel.
Sarah dies in Georgetown, Colorado.
Hazel retires from teaching and manages Hotel de Paris as a boarding house.
Annex building burns, destroying its historic rooms and contents.
Ned dies in Windsor, Pennsylvania.
Hotel de Paris closes permanently and becomes Hotel de Paris Antiques. Hazel looks for a purchaser of the property. The National Society of The Colonial Dames of America in the State of Colorado buys Louis Dupuy's Hotel de Paris and its extensive collection of original furnishings and transforms the property into Hotel de Paris Museum™.
Hazel dies in Denver, Colorado; the National Park Service creates the Georgetown-Silver Plume National Historic Landmark District.