Casino Stakes Too High for Hotel Proprietor Hazel McAdams
Casino Stakes Too High for Hotel Proprietor Hazel McAdams
Hotel de Paris proprietor Hazel Burkholder McAdams walked away from a $75,000 cash offer (approximately $1,006,085 USD) in 1946. The proposition to purchase Louis Dupuy's Hotel de Paris for use as a supper club was made by Ova Elijah "Smiling Charlie" Stephens, a former bell hop in Denver who became a well-known gambler and ex-convict who was arrested 45 times in St. Louis, Missouri and served one jail sentence there.
Stephens was also questioned in the kidnapping of wealthy investment broker Charles Boettcher, Junior. Smiling Charlie served as a go-between for the kidnappers and Boettcher Family. Smiling Charlie was treated with suspicion, but nevertheless given $60,000 ransom money (approximately $1,207,302 USD) by Boettcher's desperate family. He was returned unharmed, claiming no knowledge of his kidnappers or anything that happened during his kidnapping.
Smiling Charlie was always on the hustle. He made cash offers for real estate to widows facing finances on their own. He made money through farming, real estate sales, and the operation of casinos, hotels, and night clubs. He also bought and sold stocks and traded the commodities of lard, wheat, butter, soybeans, rye, and corn. A couple years earlier, Smiling Charlie purchased the Wolhurst estate from Julia Bennett, widow of real estate mogul Horace Wilson Bennett. The sprawling property was established by Colorado Senator Edward O. Wolcott and was so large, it covered land in both Douglas and Arapahoe counties. Mrs. Bennett expected the home and grounds to be converted into a "fine restaurant and social club."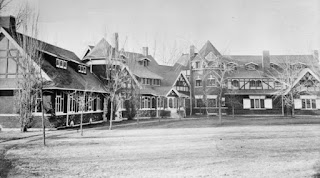 Wolhurst
Littleton, Colorado
Wolhurst, the namesake of the country estate, was a Tudor style mansion with a 60-foot-long library and billiard room perfect for entertaining. After Senator Wolcott's death in 1905, Thomas F. Walsh bought the property, expanded the residence, made improvements to the grounds, and hosted William Howard Taft, the 27th President of the United States of America. Colorado Pioneers in Picture and Story reported, "The property now stands as a model for vast country estates of wealthy American gentlemen who seek the leisure and comfort of the English nobility."
In 1910, Walsh sold the estate to realtor Horace W. Bennett and his father-in-law Jerome S. Riche. Horace Bennett, his wife Julia Riche Bennett, and the Riches ran Wolhurst as an English country home. They increased acreage, acquired additional water rights, and introduced dairy farming. Scientific farming and stock breeding were Mr. Bennett's hobbies. Crops, milk cows, and poultry were raised.
When Mr. Bennett died in 1941, his widow listed the property for sale, and it was subsequently purchased in April 1944 for $78,000 (approximately $1,159,284 USD) by Smiling Charlie and his partner (and son-in-law) Edward J. "Eddie" Jordan or Eddy Jordon for use as the fashionable Wolhurst Saddle Club. Smiling Charlie was fresh-out-of-prison for assault and attempted murder; nonetheless, each man chipped in $14,000 cash and the remaining $50,000 was executed through a deed of trust. Smiling Charlie had the financial resources to add 750 additional acres to the property, which served as a posh supper club, athletic club offering swimming and horseback riding, and gambling house for prominent Denver residents. The city's elite played dice and poker games, slot machines, and roulette wheels.

Matchbook (exterior)

Matchbook (interior)
A holdup of Wolhurst's high rolling patrons occurred on Sunday, March 10, 1946, when thirteen "heavily armed bandits" (one brandishing a machine gun) made off with $75,000 in cash and another $75,000 in cash from men's wallets and jewelry from women guests. The robbery took just 15 minutes and went unreported. When Sheriff H. Robert Campbell asked club manager Eddie Jordan about the disturbance, he replied there had been none. In fact, authorities had not a "single clue," including no complaints filed, no accounts of what was taken, no description of the robbers, and no insurance claims filed.
The following month, authorities padlocked Wolhurst Saddle Club. The injunction was granted by District Judge G. Russell Miller when some Denver residents testified to gambling at the establishment. According to The Record Journal of Douglas County, it was "the first public admission of a fact which has long been known." One of the people who testified was Morey Goldberg, owner of Goldberg's Furniture and Imperial Furniture Company.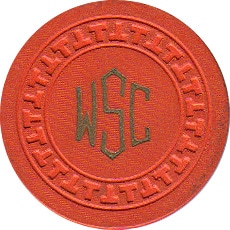 $5 chip from Wolhurst Saddle Club
Sherriff Campbell and special investigator Lawrence Stone recovered from Wolhurst's gambling house two crap tables, a faro table, three slot machine stands, five chairs, playing cards, membership cards, a metal box for chips, a $5 poker chip (approximately $67 USD), a Ouija board, a $300 receipt for federal taxes paid on slot machines issued to Ova Elijah Stephens and Edward J. Jordan (approximately $4,024 USD), and two signs which read, "Our Dice Are Guaranteed To Be Absolutely Square." The casino would remain padlocked until June 10, 1946 and there was a possibility the closure would become permanent.
With all of this going on, it is no wonder by the end of 1946 Smiling Charlie cashed out of his investment in Wolhurst Saddle Club to Eddie Jordan (who later legitimized the business) and began looking for other prospects. Smiling Charlie was involved in the Midway Hotel and Silver Star Night Club in Arkansas; when these businesses began to struggle financially, he became interested in buying Louis Dupuy's Hotel de Paris from Hazel Burkholder McAdams, a church-going, tea-totaling widow headed for financial insolvency.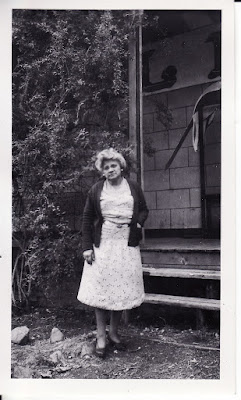 Hazel Burkholder McAdams at
Louis Dupuy's Hotel de Paris
On August 22, 1947, The Denver Post announced, "It was recently reported that an alleged gambling trust was prepared to offer Miss (Hazel Burkholder) McAdams $75,000 for the building (Hotel de Paris) following the spectacular Wolhurst robbery in 1946. Miss McAdams, it is said, would not even talk to the gamblers' representatives." It seems no coincidence that the offer to McAdams equaled the amount of cash stolen from Wolhurst Saddle Club the previous year. It may be this threat of risk to Hotel de Paris that spurred the State Historical Society of Colorado to begin discussions in earnest of purchasing the property from McAdams for a house museum.
Once Hazel McAdams rebuked Smiling Charlie's offer, he busied himself with farming, operating the Stockade (consisting of ten acres of land and a building used as a gambling house), horse racing, betting at Centennial Race Track and Ak-Sar-Ben Race Track. betting on elections, and financing automobile purchases for Fred Ward, a Hudson automobile dealer and distributor in Denver.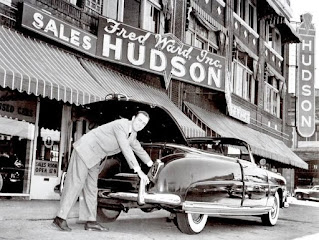 Fred Ward was the number one Hudson dealer in
Colorado and one of the top dealers in the United States
With the loss of his interest in Wolhurst Saddle Club and financial problems at the hotel and night club in Arkansas, Smiling Charlie focused on the Stockade. According to the United States Court of Appeals for the Tenth Circuit, "When the Stockade opened for the night's business, a bank roll was supplied by the petitioner (Ova Elijah Stephens) and his partner, during the existence of his partnership, and thereafter by the petitioner alone. The bank roll varied from $8,000 to $10,000 (approximately $87,927 USD to $109,908 USD), with larger amounts on weekends and as much as $30,000 (approximately $329,725 USD) on each New Year's eve. The bank roll was placed in the cashier's cage and was used to cash chips presented by patrons when they finished an evening's play."
Patrons bought in for credit and settled by checks at the end of the night. Income was taken off site nightly, perhaps to avoid another robbery. The money was placed in safety deposit boxes rather than bank accounts at either the United States Bank (Denver, Colorado) or Littleton National Bank (Littleton, Colorado). The Stockade's proceeds were used to purchase real estate, including ranches. However, because the money was not deposited, O. E. Stephens was wanted by the Commissioner of Internal Revenue for tax evasion.
Ultimately, Hazel Burkholder McAdams encountered financial hardship and owed property taxes she could not pay. Therefore, in 1954 she sold Louis Dupuy's Hotel de Paris and its collection of original furnishings to The National Society of The Colonial Dames of America in the State of Colorado for $15,100 + $25 per month living expenses for the rest of her life (approximately $146,836 USD + $243 USD). Mrs. McAdams died a childless widow in 1966 at the age of 76.
Sign up for Our Newsletter
We will process the personal data you have supplied in accordance with our privacy policy.