Room Numbers: Aligning Reproductions With Preservation Standards
Room Numbers: Aligning Reproductions With Preservation Standards
Hotel de Paris Museum retains approximately 90% of the furnishings original to proprietor Louis Dupuy, who owned and operated Hotel de Paris from 1875-1900. Missing furnishings (amounting to approximately 10% of the furnishings) are inconsequential in telling our story of reinvention and second chances in the Western United States.
Due to the immense quantity of furniture, fixtures, tools, dishes, decorative objects, artworks, books, periodicals, maps, food, drink, etcetera, it appears James J. White (the attorney who settled Dupuy's estate) instructed Howard Strousse (a friend to Dupuy) to list only major pieces in an appraisement bill and, in the interest of time, forgo recording the existence of architectural features such as light fixtures, door and window hardware, and room numbers.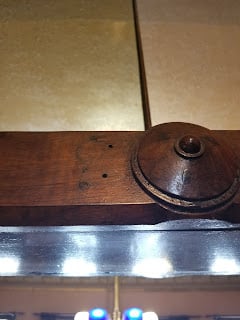 Ghost mark at entrance of Sample Room 2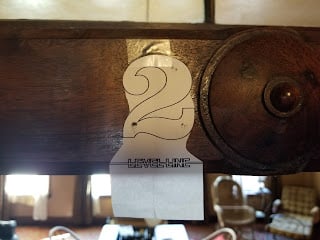 Paper template for installation of reproduction number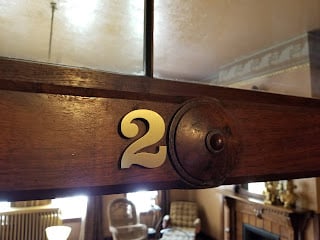 New brushed brass room number
For unknown reasons, some of these brass room numbers did not survive. Entrances to Rooms 2, 6, 7, and 10 showed ghost marks and evidence of mounting hardware, but the numbers were no longer present nor were they discovered in the museum's artifact collection. Replacement of missing features was substantiated by physical evidence provided by surviving numbers from Rooms 1, 3, 4, 5, 9, 11, 12, and 14. Room 13 was never marked.
It was important to align the project with historic preservation standards. Like the addition of street numbers to the façade of Hotel de Paris Museum in 2012, a decision was made to use compatible numbers to distinguish between original and reproduction (for more information on this subject, read the blog article "Street Numbers: Addressing Modern Requirements Within an Old Context"). The slight difference in text styles is helpful in distinguishing between old and new and will have no significance or alter the site's integrity.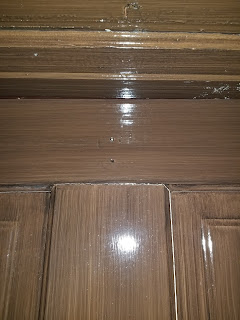 Ghost mark on door to Room 7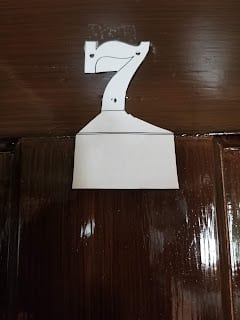 Paper template with level line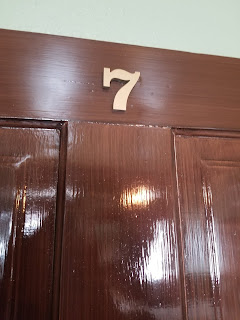 Completed project
Woodland Manufacturing of Meridian, Idaho was chosen to fabricate custom compatible numbers. Clarendon Bold URW, 1/4″ thick, 2″ high in brushed brass with hidden flush stud mounting hardware was chosen. The font is a "contemporary remake of the truly classic slab serif typeface." Ashley R. Wilson, Graham Gund Architect with the National Trust for Historic Preservation, provided consultation on the selection of the reproductions. She observed, "The font you selected, especially if the size is almost the same, is appropriate."
The generosity of Debra DeForest, active member of The National Society of The Colonial Dames of America in the State of Colorado, made the project possible.
Sign up for Our Newsletter
We will process the personal data you have supplied in accordance with our privacy policy.