Saucy Fobs Are Not Tokens of a Spicy Past
Without taking a formal poll of our visitors, most of us at Hotel de Paris Museum™ would agree the public's favorite object on exhibit would be the salesman's bed (a folding bed that when stowed looks like a desk).
However, there is another object that also receives regular inquiries from around the United States and even Europe. The surprising thing is that the other object is not on display and has no direct association with Hotel de Paris.
Then why are people calling and writing us about it, you wonder?
They are contacting us because they have found a Hotel de Paris bawdy house or brothel token. However, Hotel de Paris was neither a bawdy house nor a brothel, but, in fact, the finest hotel in town. Brothels existed in Georgetown, but they were on the far side of Clear Creek Valley from the hotel (about four blocks distant). There, a person would have been able to find the pistol-toting madame Martha "Mattie" Silks running a fancy parlor house on Brownell Street.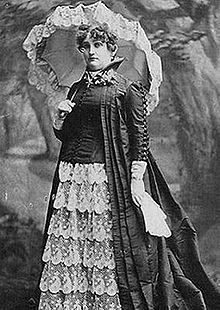 Mattie Silks
The Hotel de Paris tokens are popular, and examples have spread across the country and around the world. According to people who have contacted us, many fobs have been found in trash dumps, recycling centers, dresser drawers, or jewelry boxes.
The Hotel de Paris version is known as a "fantasy token" and seems to have been offered as a keepsake souvenir or for collectors of bawdy house and brothel tokens. Presently, the value of one of these tokens is less than $20.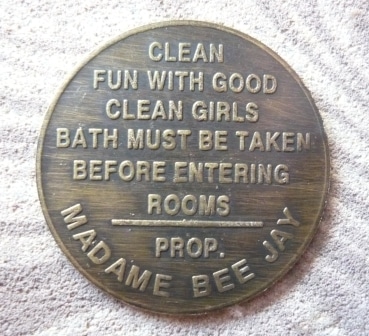 Tokens are often about the size and shape of a silver dollar.
Unlike many tokens that are the shape and size of a silver dollar, the Hotel de Paris token was executed in the form of a key fob.  It is cast or struck metal, weighty, oblong, squared off at one end, and rounded at the other.  Ornamental motifs include banners, ribbons, four-petal flowers, and what may be a compass.  All lettering is capitalized.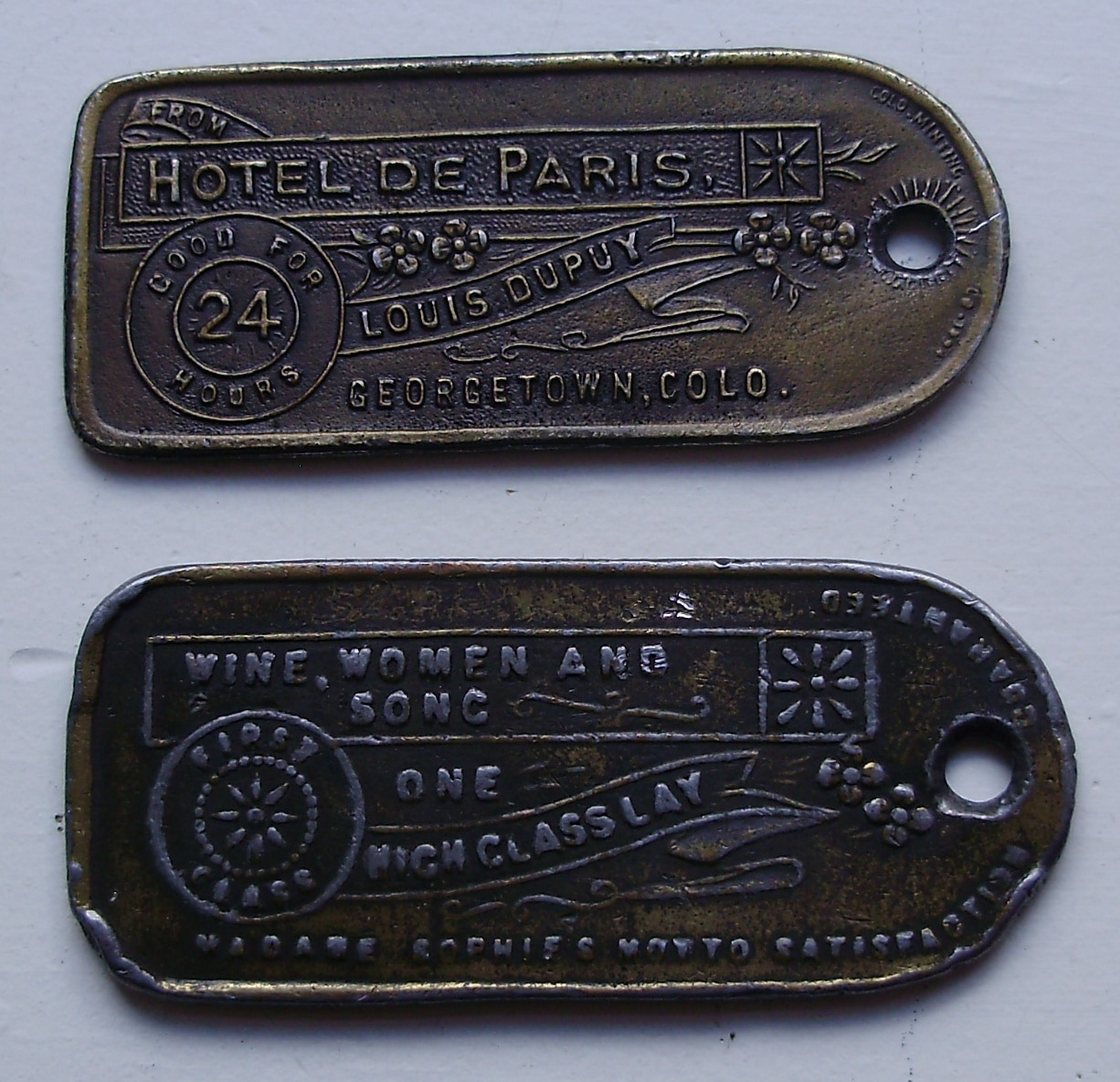 Hotel de Paris fantasy tokens (front and back)
The fobs are high-quality, which adds to the perception they are authentic and original to the hotel. In addition, there is a wide range of variation in the color (from bright brass to black) and clarity of script (well-defined to indistinct). The front of the fob reads "FROM HOTEL DE PARIS," "LOUIS DUPUY," "GOOD FOR 24 HOURS," and "GEORGETOWN, COLO." The back of the fob reads "WINE, WOMEN AND SONG," "FIRST CLASS," "ONE HIGH CLASS LAY," and "MADAME SOPHIE'S MOTTO SATISFACTION GUARANTEED."
Also on the front, barely decipherable are the words "COLO. MINTING CO. 1894" (this may or may not be the manufacturer). The date would have been during Louis' lifetime, further ruling out the likelihood that the claims were true. Like the use of real names, the phrase "first class" (most likely lifted directly from a familiar advertisement placed by Louis Dupuy) adds to the perception the token is real.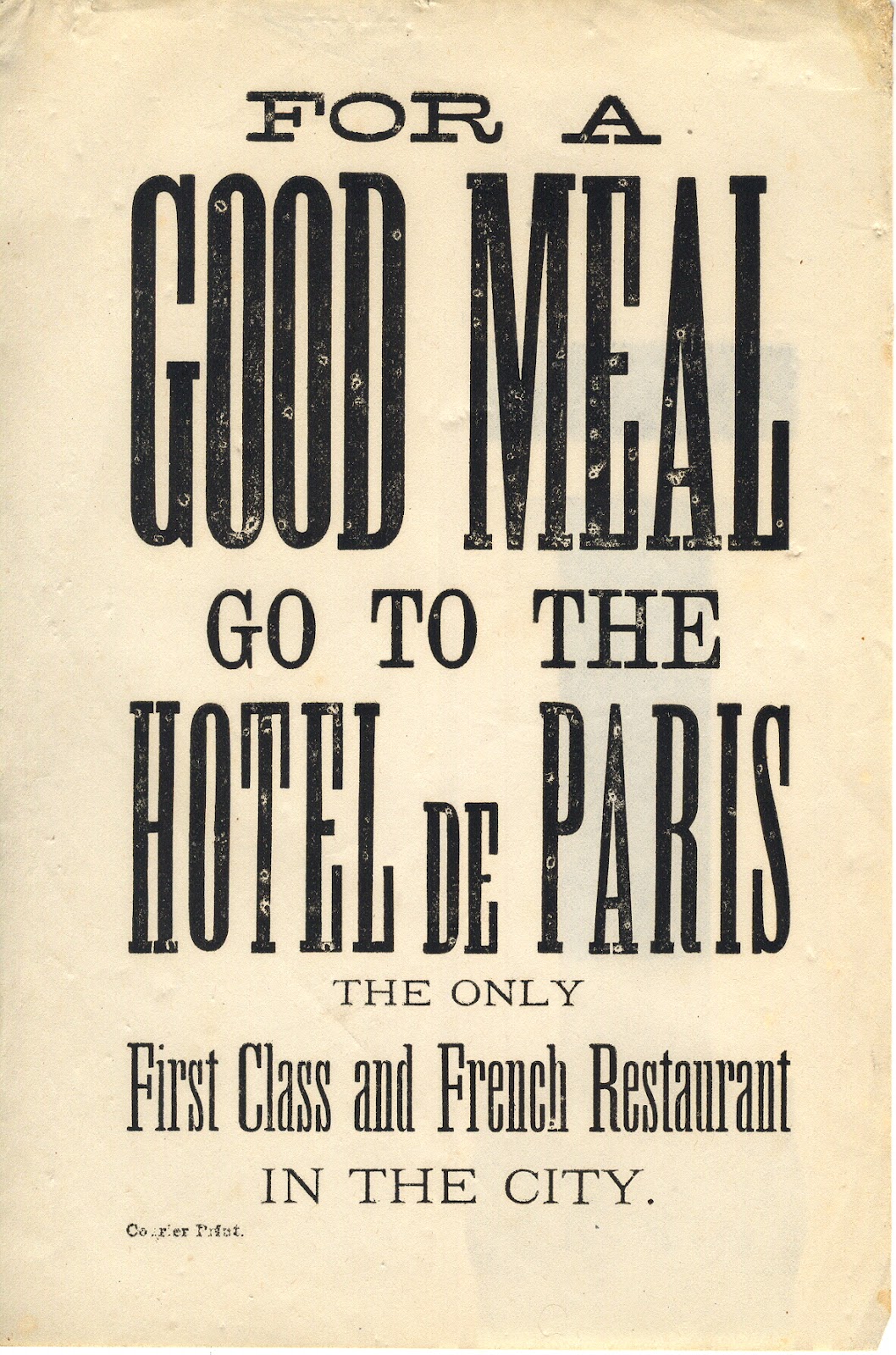 Print advertisement placed by Louis Dupuy
In contrast, authentic Hotel de Paris key fobs were not promotional in nature, but plain and practical. Fobs original to the site read simply "HOTEL DE PARIS," followed by a room number (1-14), "IF CARRIED AWAY RETURN UNSEALED BY MAIL POSTAGE 3 CENTS," and "GEORGETOWN, COLO." They had plain backs and were stamped from sheet metal.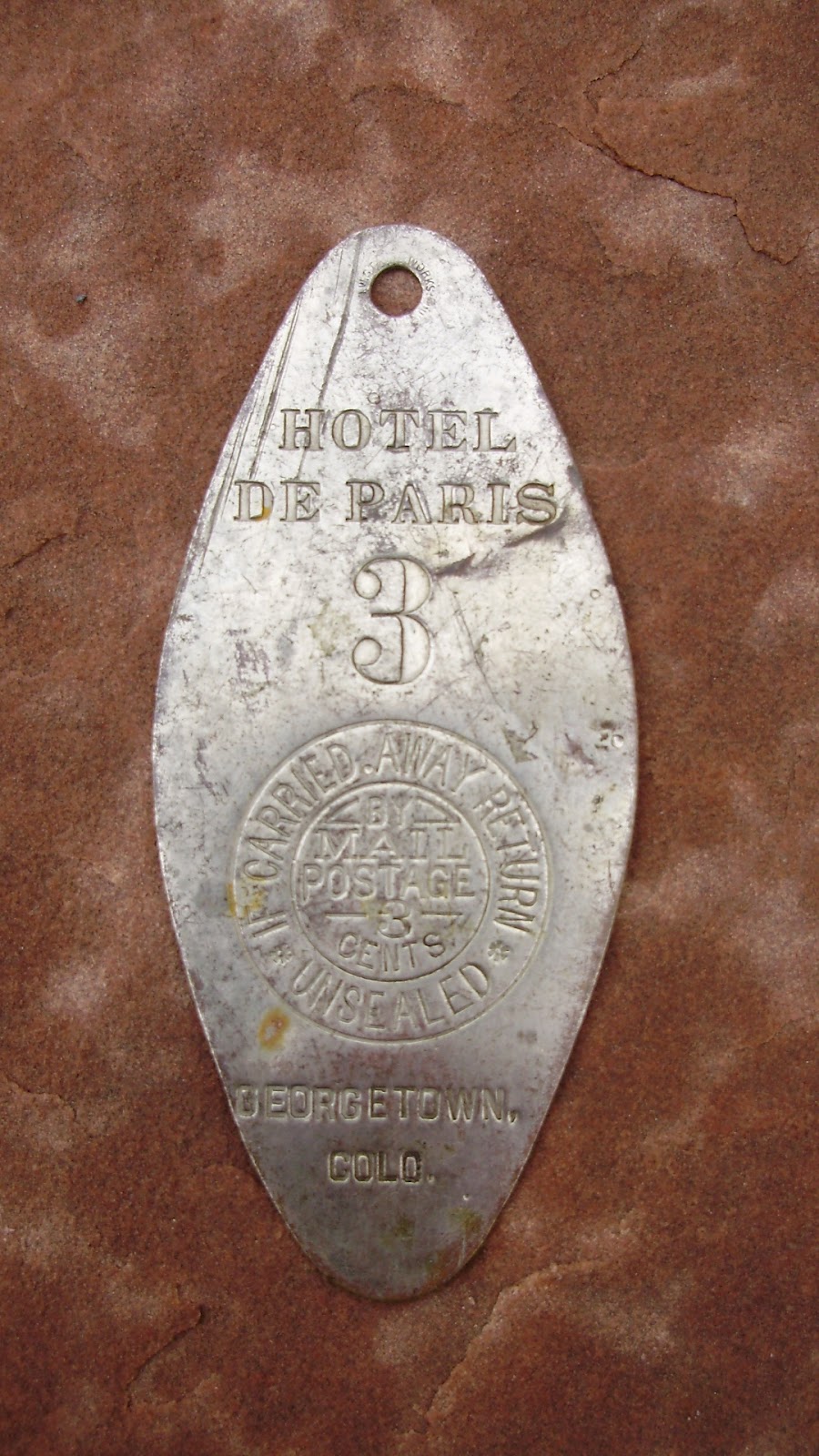 Sophie Gally, Room 3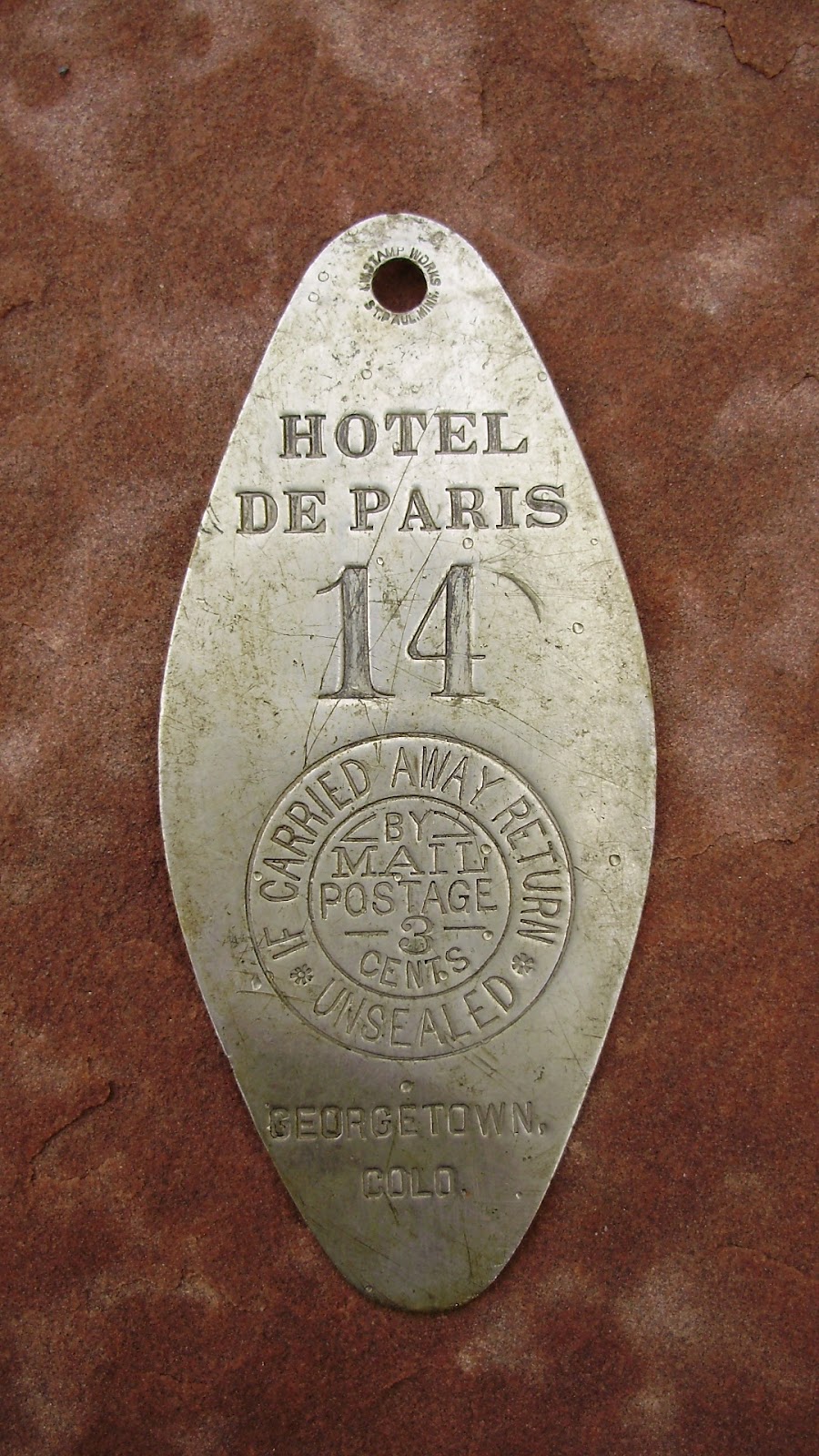 Louis Dupuy, Room 14
Sophie Gally's and Louis Dupuy's fobs have survived and are part of the museum's collection of over 5,000 authentic artifacts original to the site. For a time, brass reproductions of Louis' fob were produced by The National Society of The Colonial Dames of America in the State of Colorado and sold at This Little Souvenir Museum Shop, located in Hotel de Paris Museum™.
We have yet to be contacted by anyone who has found or acquired one of Louis' original key fobs. However, we'll keep our fingers crossed that if a key was "carried away" it will find its way back to Georgetown.
Sign up for Our Newsletter
We will process the personal data you have supplied in accordance with our privacy policy.